President's Message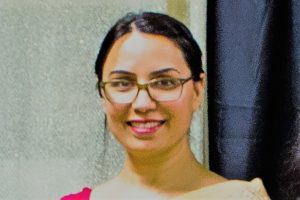 Dear Friends,
As the President of Indo-US Cultural Association of Winston Salem (2018-2019), I am honored and pleased to welcome you to our web page. I encourage you to explore this website. Even though the website is continuously being updated, it will nonetheless give you an idea about events and activities with IUCA. A lot of wonderful things are happening at IUCA and we would like you to participate in all of them.
Indo-US Cultural Association (IUCA) is a non-profit organization – a 501 C (3). Its overarching goal is to foster an innovative member-centered, cultural association that is both resource effective and focused on raising awareness of Indian cultural heritage. IUCA takes distinct pride in promoting cultural awareness through dance, music, drama, and art in the community. It was originally founded in the 1970s. Our Association has grown exponentially for the past 30 years with more than 200 Indian families, now calling the Triad home. Our members are highly educated leaders in their fields of education, information technology, engineering, computer science, banking, medicine, teaching, & more.
We have compiled and included on this website an overview of IUCA of Winston Salem. Hope this overview will give you a glimpse of our activities, and tell you what we have accomplished in the past 30+ years, and what we stand for. Thank you for giving me the opportunity to serve as a president for IUCA. I'd also like to express my feeling of gratitude to my husband Manoj, both my sons Kushagra & Kautilya for their unwavering support and encouragement.
We are looking forward to your active participation in IUCA events & activities. Please feel free to call me or any of the executive team members if you have any questions or comments.
Warmly,
Aanchal Chopra, MBA
President, Indo-US Cultural Association
Mission Statement
Overview:
IUCA takes distinct pride in promoting cultural awareness through dance, music, drama, and art in the community. IUCA also offers several other volunteering opportunities with other non-profit organizations to give back to the community.
In May 2006, Indo-US Cultural Association initiated an effort to help fulfill Mayor Joines' vision in promoting Winston-Salem as a cosmopolitan city -- a great place to live -- by hosting the very first "Utsava" (meaning festival in Sanskrit) with a huge success. The organization and its members continues to work diligently year after year towards the growth and success of that goal – to help make Winston-Salem a great place to live with a diverse, open minded, and welcoming culture.
India Fest 2018 initiative will continue a Twelfth-year tradition only because of the support of our community and corporate partners. The relevance of experiencing vibrant Indian culture allow locals to learn in most convenient way. It has everything one needs, all wrapped up into one beautiful package. For more than a decade India Fest has been recognized as a standard downtown event.
IUCA volunteers are the lifeblood of our association. These volunteers do their best to ensure that the organization have successful events to keep IUCA in good standing.
Our goal is to continue with our tradition and provide more activities of interest to youth and adults of our community.